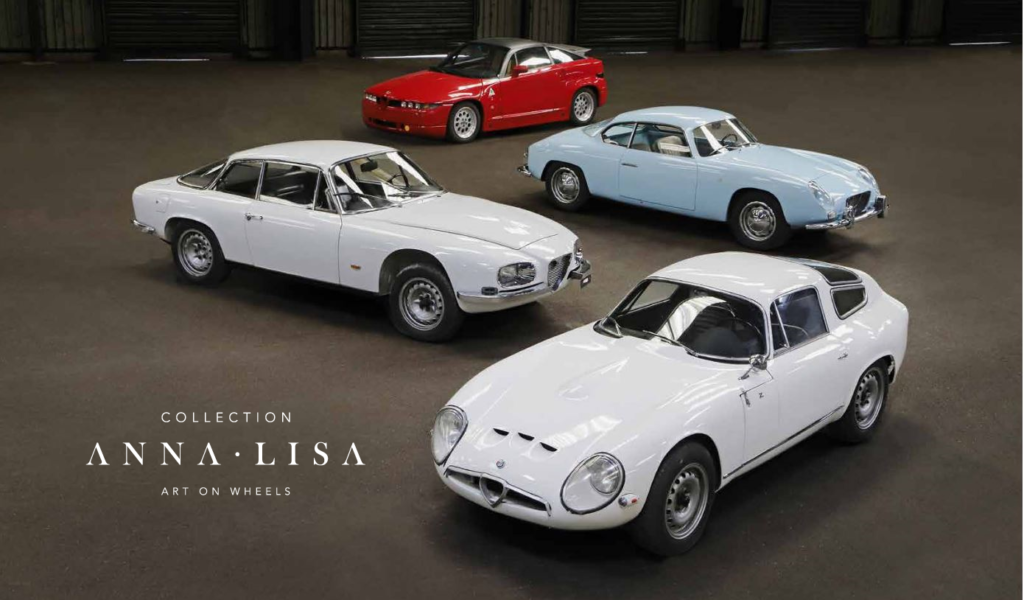 Discover the cars offered for sale in the Aguttes x Collection ANNA LISA auction
The ANNA LISA Art On Wheels Collection includes a unique selection of some of the most beautiful cars from the pre-war and post-war eras, mostly from Italian brands. These cars have been dormant for over thirty years and we have made the choice to reveal them one after the other, in a course of events dedicated to them, with the aim of highlighting their beauty and exceptional features.
This year, for the first time ever, we have decided to simultaneously unveil 33 cars from our collection. They will be offered for sale by Aguttes auction house at no reserve. This is a unique opportunity for car collectors and enthusiasts alike to enjoy these exceptional cars, but also to pursue our commitment to promote this unique heritage of one of the most exciting inventions of the 20th century.
Among the most beautiful pieces of this selection, a very rare and authentic Alfa Romeo Giulia Tubolare Zagato (TZ) from 1965, an Alfa Romeo 2600 Sprint Zagato (only 105 made), an Alfa Romeo 3000 SZ with less than 3,000 km on the odometer, and a Lancia Appia Zagato. The Alfa Romeo 6C 2500 S Freccia d'Oro, a symbol of Italian automotive masterpieces made in the immediate post-war period, is also expected to be coveted by collectors worldwide. Sold under the hammer of Maître Aguttes, we encourage you to discover them on our website and in the official Aguttes catalog.