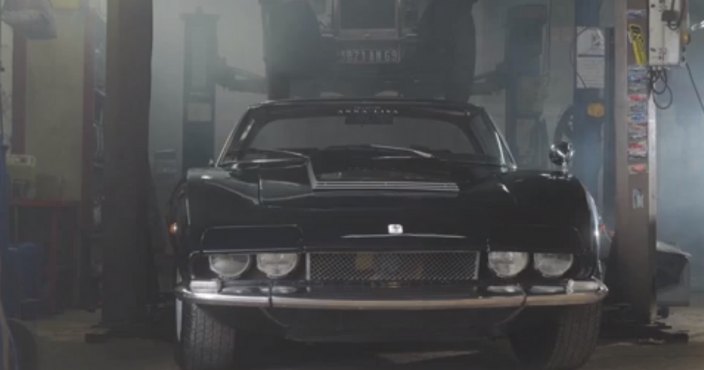 Our story
Our "raison d'être" was born when we unearthed a unique collection of motorcars that had not seen the light for more than thirty years. Our mission: to safeguard, bring back to life and promote this extraordinary automotive heritage from the XXth century.
By doing so, we also decided to pay homage to all the talents who have created these cars: the pioneers, the engineers, the designers, the coachbuilders and the entrepreneurs. Of course this homage also goes to all those who contribute to keep these cars alive today, whether they restore them, draw or shoot them or dig into their past. In a word, it is more than just about cars, it is about the human genius.
The origin of the Collection ANNA LISA
Art On Wheels
How it all started: from childhood dreams to the discovery of an extraordinary car collection.
"It's during your childhood that your greatest dreams are born". When it comes to Anne-Lise, Patrick Duvarry's wife, those dreams were made of the greatest cars being brought back to life by the family workshop. As far as she can remember, family meals have always been punctuated by extraordinary car stories. With Italian roots, the family was even more passionate when the cars had Italian genes, no matter if they were popular or prestigious.
Anne-Lise, nicknamed Anna Lisa by her grandfather, promised herself to perpetuate the family tradition in her own way. So when she and her husband, Patrick Duvarry, unearthed a collection of more than 70 remarkably well-preserved cars that had been stored for more than 30 years, they were in awe. Both of them understood this collection had to be theirs so as to safeguard it.
One mission: pay tribute to the human genius that lies behind the greatest motorcars.
Why wouldn't the greatest car engineers, designers and coachbuilders be considered as the equals of Leonardo di Vinci? This is one of the mottos of the Collection ANNA LISA Art On Wheels: rehabilitate and promote the human geniuses that lie behind one of the most wonderful inventions of the XXth Century.
Therefore our mission is to safeguard and promote these extraordinary vehicles in the XXIst Century under different ways, including digitally.
"We felt we had to safeguard this forgotten heritage and to revive it. By being the new caretakers of this extraordinary collection, we fulfilled a lifetime dream. Bringing this collection back to life is also a tribute to the man who had patiently built it up several decades before.
It was a moment of rare intensity as every step among these forgotten treasures brought its own part of mystery. Each time a veil was lifted, we faced a car that plunged us in an era, an atmosphere… How not to be caught by emotion when discovering a cracked painting in the half-light?
Our mission: to safeguard and promote vehicles as rolling art
Through the collection ANNA LISA Art On Wheels, we wanted to highlight the tremendous automotive creativity that took place all along the XXth century.
A collection that show how diverse is the automotive world.
Pre-war cars, old-fashioned small family cars, cars with a racy aesthetic signed by the greatest coachbuilders, stylish GTs and iconic supercars… our collection may seem heterogeneous at first; in fact, it has guidelines that open distinct automotive universes.
We have gathered our cars in different galleries so as to allow you to wander through the collection under different angles:
Aesthetics first by creating galleries wearing the name of some of the greatest names of Italian coach building, notably Zagato, Touring or Pininfarina,
Competition by distinguishing our cars that are eligible to the Mille Miglia and / or Tour Auto,
The car generations by sorting our cars in four different eras: pre-war cars, Fifties cars, GTs, and last but not least the supercars of the early 1990s.
It has been great fun selecting the cars that would suit best a night out in the French Riviera, those we would love to drive over the Alps, and last, those which natural habitat must be the lawn of the most prestigious Concourses.
Last, since our collection has a strong contingent of Italian cars, we had to classify them by brands. Four of them came immediately in mind: Alfa Romeo, Ferrari, Fiat and Lancia.
Nothing would have been possible without the human genius.
We wanted to give an ode to the human genius that lies behind the creation and preservation of these extraordinary cars, since we owe them to be here today to the craftsmen who have saved them.
These craftsmen perpetuate know-hows that cross generations. Without these skills and knowledge, cars would not be restored the right way, would not drive as they should, would not be transmitted from generation to generation.  And yet, such knowledge is fragile and no longer taught at school for most of it. This is why it is important to support and promote it, especially toward the younger generation.
Whether they are engine builders, sheet metal workers, coachbuilders, saddlers or artists, photographers, videographers, historians, experts and storytellers and of course well-informed amateurs with immense knowledge, all deserve to be thanked and highlighted.
"We wanted to surround ourselves with real talents able to reveal the cars' souls. This is essential if we want to keep this heritage alive and pass it on to the next generations."
We also stick to the approach that has been initiated by official automobile organisations where respect, transparency and authenticity are cardinal values.
We want to magnify this rolling art through artistic photos, which will sublimate the lines of these cars. We also want to create immersive experiences with the public through emblematic events that will bring unique emotions and memories."