Ferrari F40
- 1991
— The Maranello icon —
Our Car

A "Rosso Corsa"1991 Ferrari F40, very sound with just over 1200 kms on the clock

History

One owner from new before us

Mechanics

Our model is equipped with hydraulic suspension with adjustable height and catalytic converter

Driving Sensations

Easy to drive at low speed and really diabolical once you reach 3,000 rpm!
Launched in 1987 to celebrate Ferrari's 40th anniversary, the F40 made a stir worldwide with its radical lines, innovative materials, raw interior and breathtaking performance. 34 years later, the Maranello supercar has retained its iconic status among all those who are found of extraordinary cars.
Our F40: a car that had not been driven for 25 years
The discovery of our Ferrari F40 was one of these moments when time stops. It was filled with emotion, our car only had one owner before us and it had been kept un-driven for 25 years. The car had only covered 863 kilometres from new! No wonder it has a special status within the ANNA LISA Art On Wheels collection, as Patrick Duvarry reminds us: "Our main priority was to bring this extraordinary back to life by restarting it with Ferrari Gauduel team in Lyon. Our F40 proved to be very healthy and, in addition to the classic restart procedures, the choice was made to replace both of the two aviation-type fuel tanks, a well-known specificity of the F40.
The rebirth of this car has been immortalised by the photographer Remi Dargegen in an article published by the French magazine Auto Heroes (#23).
It also made the cover of the Ferrari-only magazine Enzo France. It also published an article about our car illustrated by incredible photos shot by Lionel Koretzky. Some of them are published here.
We then decided to drive our car. After a first test drive near Lyon, we drove our first track laps on "Circuit du Val de Vienne" near Poitiers, France as part of the Sport & Collection charity event dedicated to fight cancer, a cause that is dear to us. These very first laps were covered by the most popular car French TV show "Auto Moto" broadcast by TF1 channel on 27 June 2021. That weekend, the Youtube channel "Le Billet Auto" also performed a test. Finally, Petrolicious also made a film and an article, the former showing our Ferrari F40 and our Ferrari 212 together on track.
After 25 years of non-use, we could not but give voice to the fabulous F40's V8 twin-turbo engine, a mission we carried out in partnership with Gauduel Ferrari Services in Lyon.
The F40 , one of the most radical and superlative car
The F40 is much more than a work of art, it is fore and foremost a formidable car for its radical performance, versatility, style and uncompromising on-board lack of comfort. The F40 has been a superlative car since its introduction in 1987: it was then the most powerful, fastest and most expensive production car ever built, and also the first to be built with a carbon body!
It was also the last car ever to have been presented by Enzo Ferrari himself, further enhancing its special status. Finally, it is also the last Ferrari to have been developed by the talented Nicola Materazzi. No wonder why this extraordinary car has immediately become an icon.
A supercar in line with its predecessor, the Ferrari 288 GTO
When the F40 was born, it was not the brainchild of a marketing or product plan. No, things were way more straightforward at that time. As Materazzi recalls, it all started during a discussion between Enzo Ferrari and Pietro Barilla, who was concerned to see his son's BMW M3 more powerful than his Ferrari 308.
Materazzi, who had already developed the extraordinary Ferrari 288 GTO, Ferrari's first real supercar, was asked by Enzo Ferrari himself to think about an 'Evoluzione' design program for the car to compete in rallies with the Porsche 959 in Group B. The regulation asked to build a minimum of 200 cars, but a change in those regulations then thwarted his plans. This is how he came to suggest to Enzo Ferrari to modify the 288 GTO into a race car which would be sold to private teams: the Ferrari 288 GTO Evoluzione was born, but only five of them were ever made, two by Ferrari, three by Michelotto.
Only four of these cars (considered afterwards as the real prototype of the F40) were sold to collectors, the last one being kept by Ferrari. If the car was truly impressive, it was by no means to be a road car usable in normal traffic. This is when Enzo Ferrari decided to give Nicola Materazzi a real "carte blanche" to design a car that would be launched to celebrate the brand's 40th anniversary.
All the design and development had to be done in a hurry because the car had to be ready for a press presentation in July 1987 in Maranello. Nicola Materazzi was almost alone at the head of this project and only managed a very small task force. This small group of people spent most of their weekends on it, in an almost clandestine way, since Enzo Ferrari decided that this project could not be handled in the traditional heavy Ferrari decision-making process.
A no compromise old-school Ferrari
Materazzi's priorities remained focused on the design of a superlative engine, the 478 hp, 3-litre, twin-turbo V8, positioned longitudinally which would be installed in a superb aluminium chassis. The engine and chassis were seen at the heart of what was intended to be a very light, very powerful and aerodynamic car. In short, it would be an "old school" car with no compromise, where function prevails over form. This radical approach was fully assumed and was fully in line with the greatest Ferrari road racing cars, the 250 SWB and GTO in particular.  
In true Ferrari tradition and like its illustrious predecessors, the F40 offered a very basic interior with no options, entirely dedicated to the cause of driving. Only air conditioning was offered as a standard to remedy the heat of the cabin. The racing seats were also offered with three widths, which was basically the only comfortable option you could get. For those who tried to negotiate a leather interior, carpets, trim and door handles or a radio, the only answer was a no. Only the Sultan of Brunei was allowed some of these options as well as colours other than the standard red.
In addition to the lack of any comfort features, the quest of saving weight led to produce the world's first Kevlar carbon bodywork. The first cars even had only three kilos of red paint on the bodywork, thus revealing the carbon weave. Quite a few dealers were not pleased with this, so later on, Ferrari decided to spray more paint on its cars. The car weighed 1,093 kilos, which was then increased to 1,140 kilos on the last models, partly due to the addition of a catalytic converter.
After long and requiring test drives, the car did not disappoint at all. It had extraordinary performances: 0 to 100 km/h in 4.1 seconds, 1,000 m from a standing start in 20.9 s, and last but not least, a top speed of 324 km/h, a world record for a production vehicle back in 1987.
0 to 100 km/h in 4.1 seconds, 1,000 m from a standing start in 20.9 seconds with a top speed of 324 km/h: these smashing performance were a record for a production vehicle back in 1987.
The F40's unveiling : an immediate worldwide hit
The F40 had everything you could dream about: the most legendary name ever, Ferrari, a radical and exuberant design signed by a legendary coachbuilder, Pininfarina, an extreme engine, numerous technical innovations and last but not least, a great chassis. The enormous spoiler and rear window with its huge gills that showed the engine unleashed passions.
It was an immediate hit that went beyond the most optimistic expectations, which forced Ferrari to revise its production figures upwards to 1,311 cars and to imagine an American version. Enzo Ferrari was more than satisfied with this old-fashioned car and declared: "I expressed the wish that we would produce a car that could remind us of Le Mans and the GTO. Mission accomplished!"
The future proved him right, because, in true Ferrari tradition, several private teams decided to modify F40s so as to race in GT or endurance championships, including Le Mans but also in the then very competitive BPR championship. Also in true Ferrari tradition, Michelotto developed most of these racing variants.
Today, the F40 has become a real icon in the pantheon of remarkable cars. As we have seen with our F40, it transcends generations and fascinates both young car-spotters and historic Ferrari enthusiasts alike.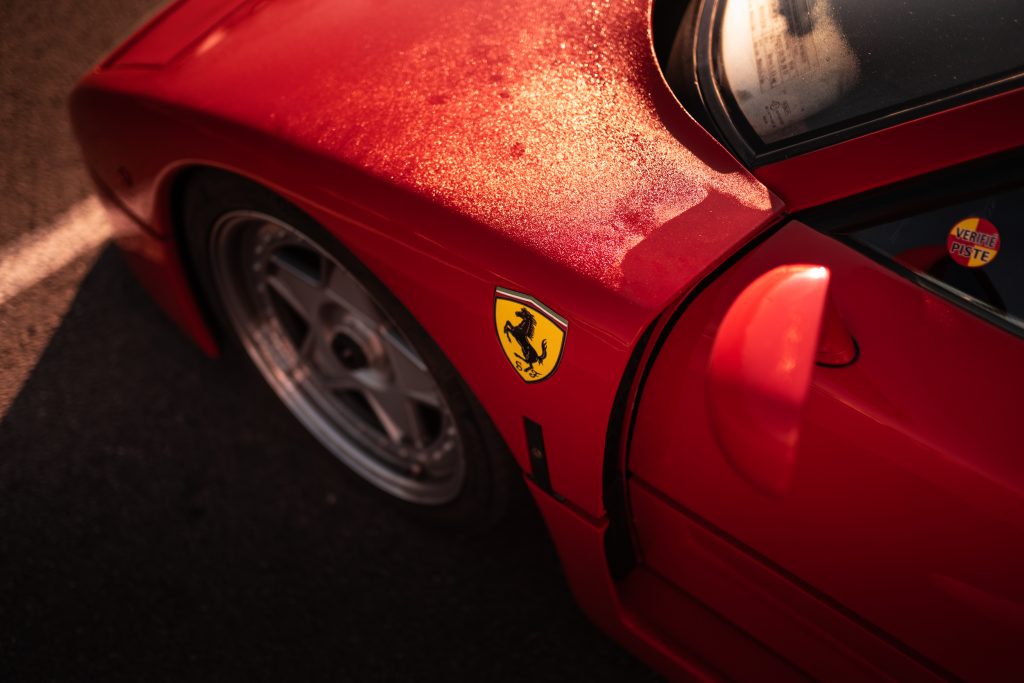 The restart of our F40 , an intense emotional moment
After a long period of non-use, we decided to give our F40 a new lease of life, a task carried out in partnership with Gauduel Ferrari Services in Lyon.   
The car, with its original "Rosso Corsa" paintwork showing the carbon wefts, turned out to be very sound, which made it easy to get back on the road. It is to be said that, during these 25 years of no-use, a mechanic was asked by the then owner to start the car once a week, which helped to maintain all mechanical components in good shape. It took a few months to complete the delicate restart task, which involved classic mechanical operations to check the fluids and tests, as well as other more complex operations linked to the specificity of the F40, in particular the one aimed at changing the flexible tanks.
As Patrick Duvarry told Auto Heroes, once the keys were handed over, the first drive was really emotional: "Of course, you always have a bit of apprehension when you get behind the wheel of such an iconic car, especially when it hasn't been driven since 1995. For me, who is used to driving modern Ferraris, this one is much wilder. It truly delivers extreme sensations. Apart from this drive and the ones during Sport & Collection meeting, we have decided to keep our car as it is since it has done so few kilometres since new."
We indeed decided to drive our F40 during a charity weekend we enjoy going to, since it gathers Ferrari to benefit a cause that is dear to us, the fight against cancer. So, we fully enjoyed displaying, driving and having guest on board of our F40 during the 17th edition of Sport & Collection meeting. We then decided to preserve this icon while keeping the mileage very low.
The F40 will always remain an extraordinary and wild car that has marked the history of human genius and the one of the greatest automobiles. No wonder it continues to make us dream today.
Acknowledgements – 
The teams of Enzo Magazine France, Auto Heroes, TF1 – Auto Moto, Le Billet Auto and Petrolicious for their reports dedicated to our Ferrari F40, in particular Yan-Alexandre Damasiewicz, Rémi Dargegen, Jean-Pierre Gagick, Jean-Baptiste Dessort, Ugo Missana and Maxence Massaro for their superb photos.
The F40 is wild. It really delivers extreme sensations