Iso Grifo Can-Am
- 1972
— A fusion between Italian elegance and American muscles —
Model

One of the 24 Iso Grifo IR9 Can Am equipped with the 395 hp V8, the 374th Iso Grifo to leave the factory on May 2, 1972 and the 19th Can Am produced

History

We restarted this car in 2020 and drove it in Sport & Collection, a French charity meeting

Mechanics

A powerful car tailored for fast road trips

Driving Sensations

A chic Italian GT hiding a powerful American engine flirting with 300 km/h
Italy, home of the most beautiful supercars and GTs, found a considerable market in the United States. It kept most European GT manufacturers afloat and for some, made their fortune. The temptation to combine the best of both worlds, an Italian bodywork powered by an American engine came quickly in mind to entrepreneurs: thus, the Apollo 5.000GT, the Iso Grifo or the De Tomaso Pantera to name a few, all explored this path. With proven reliability and easy maintenance, the US V8s were an evident choice. One of the most iconic examples of this line of cars is our Iso Grifo IR9 Canam: it is both very rare – only 24 cars made – and powerful with its 7,446 cc V8 that delivers no less than 395 hp!
The Iso Rivolta Saga
Both the Fifties and Sixties saw the rise of small car brands in Italy, some dedicated to competition, others to create stylish and fast road cars sold internationally. One of the most famous examples being the Lamborghini brand created in 1963 by an agricultural equipment industrialist.
The North of Italy and especially the surroundings of Modena has for long been a cluster of automotive masterpieces thanks to a profusion of skilled artisans and industrialists. Some were great coachbuilders, others finely tuned engine manufacturers, car designers or even racers who decided to manufacture their own racing cars.
This is how Renzo Rivolta, an entrepreneur who made a fortune through a wide range of activities, decided to launch a 4-seater GT called Iso Rivolta in 1962. It marked the start of a unique saga in the history of the automobile.
Renzo Rivolta, a multi-faceted entrepreneur with striking successes
Renzo Rivolta's entrepreneurial life is clearly defined by its eclecticism. After manufacturing and selling radiators and refrigerators under the brand Isothermos, which he had bought back in 1939, he decided to diversify into two-wheelers after the war and became a successful manufacturer of scooters and motorbikes, to the point to become the third largest manufacturer of Italian two-wheelers.
In the mid-Fifties, he then decided to market the first "Microcar" in history, a tiny city car named the Isetta, standing for "the little Iso". This iconic egg-shaped car with its single door in place of the front face was an immediate hit with 161,728 units sold in more than seven countries, including France.
So as to expand the microcar concept worldwide, he then decided to sell the patents of its single-cylinder car to various manufacturers, most notably BMW in Germany, or the more confidential Velam brand in France. These patents ensured strong regular revenues for its founder.
 The Iso Rivolta: an Italian GT with an American flair
In 1961 at the Frankfurt Motor Show, Renzo Rivolta's destiny took another dimension when he overheard two Americans discussing what they thought would be the ideal GT: it would be European, since the US buyers were fond of them, but powered by an American engine.
One of these two Americans was none other than Max Hoffman; THE leading and charismatic importer of the greatest European GTs. Max Hoffman had indeed changed the destiny of renowned European car brands by shaping the specifications of cars for which he foresaw great commercial success in the USA. One of these most famous examples is the Gullwing & roadster 300SL that he pushed Mercedes to produce and sell. Both were a hit and changed forever the image of Mercedes in the USA and worldwide. Other examples are the iconic BMW 507 and Porsche Speedsters. In short, Max Hoffman had considerable flair and a huge knowledge of his market. 

At this stage, Renzo Rivolta, thanks to the success of the Isetta, was actually already dreaming of developing his own GT. This discussion confirmed his decision and he quickly shared his ambition with Nuccio Bertone, who had then just collaborated with Giugiaro on the Gordon Keeble, an English car with an Italian body made by Bertone and powered by a Chevrolet V8 engine. This very exotic brand had chosen for an emblem a turtle!
As a start to its new venture, Renzo Rivolta entrusted Pierluigi Raggi and Giotto Bizzarrini to design "the perfect GT". It would be powered by the powerful V8 engined of the Gordon Keeble that made a strong impression.
Pier-Luigi Raggi developed a folded and welded chassis, much more rigid than the tubular chassis used by the competitors of the time, and Giotto Bizzarrini took care of the running gear, with a De Dion axle at the rear. As for the engine, Renzo Rivolta chose a 327 hp General Motors V8 called "Small Block". Finally, Bertone was commissioned to design this first GT under the Iso brand.
This is how they first designed a large coupe with four real seats. This first car, called the Iso Rivolta GT was launched at the 1962 Turin Motor Show where it made a stir, thanks to its very elegant lines and expressive front.
The following year, Renzo Rivolta launched two two-seater coupes on the same platform with a shortened wheelbase: The Iso Grifo A3C (for Corsa) with its very low ride height, curves and muscular lines, and the more elegant, discreet and sleek Iso Grifo A3L (for Lusso). The later with its large rear bubble and a luxurious interior was clearly a GT tailored for the US market.
The Iso Grifo A3L – "a cowboy dressed in an Italian suit."
To produce the Iso Grifo A3L required a lot of development and production did not really start until 1965. A total of 400 units have been made until the end of 1973 with many changes among the different versions that have been launched over the years.
The first of these changes was related to the engine: the 1968 Geneva Motor Show saw the introduction of a 427 ci V8 engine (7 litres) which allowed the car to reach nearly 300 km/hour, making it the fastest car of its times.
The second major change was the style with a new body designed by Marcello Gandini in 1970. One of the most striking features was the new semi-removable pop-up headlights integrated on the front face.
At the end of 1972, the partnership with GM came to an end and the Ford Cleveland engine replaced the small block. The bodywork remained the same as the Big Block series II version, although it was fitted with a thinner hood scoop on the bonnet.
The Iso Grifo Can Am, a US muscle car born in Italy
Our Iso Grifo is a Can Am version, also known as an IR9. Equipped with the V8 big block under the bodywork redesigned by Marcello Gandini, the Can Am is a very rare car sought after by enthusiasts, especially in the USA.
Our car is therefore part of this second series with its semi-removable headlights, strengthened chassis, enlarged engine compartment and bonnet fitted with a large hood scoop. The hood scoop was needed both to fit the engine's deck height but also to release the heat generated by the big block engine.
Only 24 Can Am were built, all powered by the 7.440 cc (454 ci) V8 engine developing 395 hp. In order to master such power, the driver had a 5-speed ZF gearbox and an axle with a ratio of 2.88:1, which allowed him to flirt with 300 km/h, preferably on a long straight line!

Our Iso Grifo is the 374th Grifo and 19th Can Am produced. It left the factory on May 2nd 1972 to Switzerland where it was sold via Roggero based in Zurich. Our car then stayed in Europe between Switzerland, Belgium and Monaco.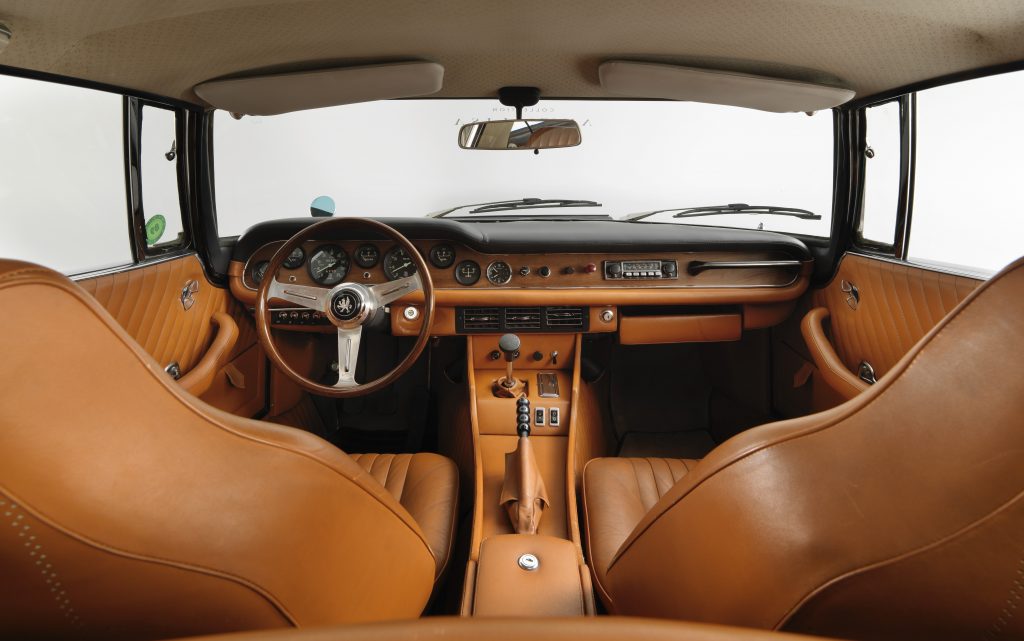 The restarting of our Iso Grifo
Never restored and stored in dry and ideal condition for over 30 years, our Iso Grifo turned out to be very healthy car, thus guaranteeing an easy restart. It was an overall very emotional process; from the moment we discovered it to the one when we first heard the engine giving voice again.
Our first drive occurred in 2020 during Sport & Collection, 500 Ferrari Against Cancer's French charity event. We truly enjoyed what this outstanding GT is about.
As Patrick Duvarry stated: "The Iso Grifo Can Am is a genuine GT with a luxurious and beautiful interior powered by an impressive American engine. Its use corresponds to a bygone era, when we still could drive at full speed down to the Côte d'Azur on large open roads. Of course, times have changed, so we were much wiser on small countryside roads!"
A few laps around the Val de Vienne track confirmed that this quite heavy car shows its full potential on long straight lines and has to be handled with care on twisting parts of the track!
This fabulous GT is a wonderful testimony to an era of all possibilities, when freedom, speed and a certain carefree attitude were the norm. What an era!
Acknowledgements –
Pierre Brunner, president of the Iso France Club, for his kindness and encyclopaedic knowledge of the brand.
A noter que nous sommes en train d'effectuer un complément de recherches historiques afin de préciser l'histoire complète des propriétaires de notre auto. 
Driving the ISO is a true reminder of a bygone era, when you could drive at full speed down to the Côte d'Azur on large open roads.