Lancia Appia Zagato GTE
- 1959
— The first Zagato bodied car officially sold by Lancia —
Model

The first Zagato bodied car sold directly by Lancia's network

History

Max Hoffman, the famous NY based importer, sold our car new in the USA

What We Like

A technically refined car, true to Lancia's reputation with a typical and unconventional Zagato style

Driving Sensations

A light and agile sports car, very fun to drive
Sold new in 1959 in the USA by Max Hoffman, the importer who called the shots with European carmakers when it came to sell in the US, our pale blue Appia Zagato is the fifth car of the first series of five sold in the US. It remained in the USA for 40 years before heading back to Europe. It is now part of the ANNA LISA Art On Wheels collection after a long period of sleep.
The Fifties were a great period for small Italian cars. The Lancia Appia launched at the 1953 Turin Motor Show was no exception to the rule.
As often in period, Lancia sold bought bare chassis to Italian coachbuilders so that they could launch their own convertible and coupe versions of the Appia. If some had a sporting vocation in mind, others rather focused on elegant cars. Already famous for its racing cars, Zagato was of course keener on racing cars and unveiled its first coupe prototype in 1956. It was the first of a series of four Appia coupes to be bodied by Zagato.
Launched three years later, our Appia GTE marked an important step in the history of Zagato: For the first time ever, a Zagato bodied car was officially sold directly by Lancia dealership's network. A mini revolution that first ensured some commercial success for the car, but also pushed Zagato to gradually become a real industrial partner to the established big brands. As a matter of fact, the Appia Sport, launched almost simultaneously with the GTE, was the first Zagato ever to be the subject of a detailed production register!
It was a real pleasure to discover our car. It was almost untouched, as it had never been repainted neither restored during its very long period of hibernation.
The Appia: a typical Lancia , both refined and technically advanced.
The Appia succeeded to the Ardea, an entry-level car for Lancia. The Ardea's career started in 1939 but was cut short by the war. Although Gianni Lancia's main priority after the war was to launch its brand new Aurelia, he still asked his team to work on technical studies to replace the Ardea. It led to the launch of the Appia, named, like the Aurelia, after a Roman road.
Lancia, which was renowned for its technical sophistication, did not intend to compete with Fiat in terms of production volumes, but still believe it had a card to play with its own faithful customers. In true Lancia tradition, the Appia was indeed pretty advanced for its times: it was equipped with a rigid and light self-supporting structure, independent front wheels, telescopic suspension and a narrow V-shaped engine with an aluminium cylinder head. These technical innovations were created by Vittorio Jano, the prolific and talented engineer who directly contributed to Alfa Romeo and Lancia main racing achievements.
The small, agile and rather luxurious saloon car, close in style to the Aurelia, had all in all a ten-year career with many variants. It started with the 38 horsepower Series 1 which would three years later be replaced by the extended Series 2, noted for its elegant and tapered lines. This car was also more powerful with 43 hp, allowing it to reach a top speed of 130 km/h.
As it was often the case in the Fifties, Lancia also decided to sell its ingenious chassis as a platform to Italian coachbuilders, so that they could work on more sporty or elegant versions. Thus Pininfarina offered a very elegant coupé, Vignale a more classic 2+2 coupe and a cabriolet while Zagato created a very light sports coupe prototype with singular lines quickly nicknamed the "cammello" (a.k.a. the camel in English).
The Appia Zagato :
a line of stylish and sporty cars
The Appia 'Cammello' prototype presented in 1956 featured the most famous stylish trend associated with Zagato: the double bubble on the roof. But the "Cammello" also had those double bumps on the bonnet and boot lid! Presented in a two-tone blue and white livery, the Lancia won the Cortina Concours d'Elegance in 1956 before changing colour and characteristics. It then took part in 1957 Mille Miglia. With its quirky look, the car was actually a real sports car with a top speed of 150 km/h.
Zagato then launched in 1957 and 1958 two other versions called Appia GTZ and GT. These models were then not yet sold through the Lancia dealerships' network. Although quite close aesthetically to the 1956 prototype, the GTZs differed a bit with the use of thin vertical fins on the rear wings, more recessed front headlights which were covered with a sort of plexiglass bubble.
These Lancia Zagato cars soon became formidable in competition: during the 1957 Mille Miglia, three Appia Zagato, -two GTSs and the "Cammello" – took the first three places in their class!
In great Zagato tradition, these Appias had a very thin body made of aluminium stretched over a boxed steel chassis, thus ensuring the lowest possible weight. It is estimated that only 30 GTZs were made.
If both the Appia GT 2 + 2 and the GTS had open headlights, the latter is also known for its streamlined bodywork and double-bubble roof. While the GT had 53 hp, the GTS had 60, as well as a wood-trimmed steering wheel and optional bucket seats to affirm its sporting vocation. Production was less artisanal and hundreds were made.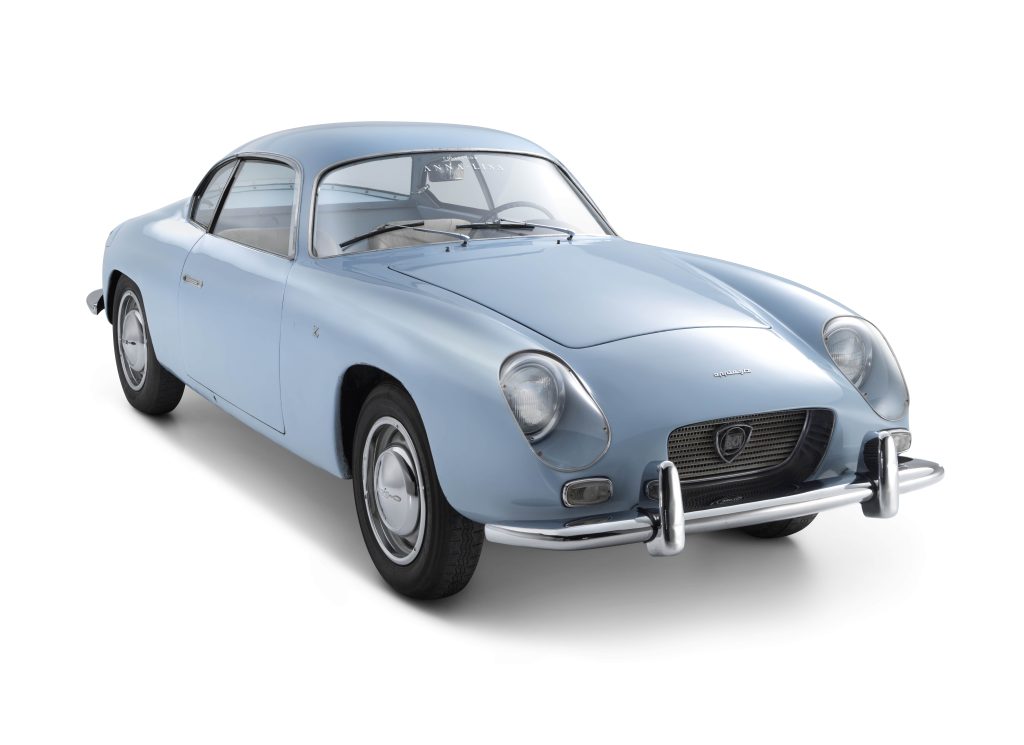 The Appia GTE : the first Zagato car sold directly by Lancia's network
Unveiled at the Turin Motor Show in November 1958, the Lancia Appia GTE, which stood for "Gran Turismo Esporto", replaced the Lancia Appia GT. It was a mini revolution for both Zagato and Lancia since it was the very first time a Zagato bodied car was offered for sale directly by the Lancia's network. Our 1959 Appia GTE is no exception to the rule and was sold new by Max Hoffman, the then Lancia's importer and distributor in the US.
Thus, Zagato officially changed status by no longer being only a coachbuilder purchasing reinforced chassis to becoming an official industrial and business partner of Lancia. Design wise, the Appia GTE is quite unconventional yet different from the previous Zagato Appias: it features a lower, tapered and more aerodynamic body, with a longer nose, covered headlights, which are set deeper into the wings. It also has partially recessed taillights.
The GTE underwent numerous evolutions: from 1959 onwards, it benefited from the improved chassis of the third series, then saw the removal of bubbles on its headlights due to a change in Italian regulations. In 1960, the Appia GTE welcomed an improved 60 hp engine. Its career ended in 1962.
Zagato launched an Appia Sport in 1961, which, while not replacing the GTE, took on many of its features. Shorter and designed by the young and already prolific Ercole Spada who had joined Zagato shortly before, it was produced until 1963. The design was based on the GTE's open-headed front end, but differed from it in that the rear end was rounder and the lights were recessed into the bodywork, as well as the roofline being a "fastback".
Production figures vary from one source to the other, but it is estimated that the four versions of the Appia Zagato produced between 1957 and 1962 amounted to a total 721 cars, of which 167 were GTEs with the first 53-hp engine and 134 with the last 60-hp engine. It should be noted that before the Sports variant, Zagato did not keep detailed records of its production; hence the estimates on all production figures.
Finally, many differences may exist between each cars, some related to trim options, customer specific orders or dealer requests, other more prosaically to a lack of available parts… Only the Sports version can be described as a (small) production car.
Our Lancia Appia GTE is a testimony to those limited production Italian cars with strong designs by the greatest names. True to Lancia's technical sophistication and Zagato's approach, this sporty small GT with its particular aesthetics is a real gem!