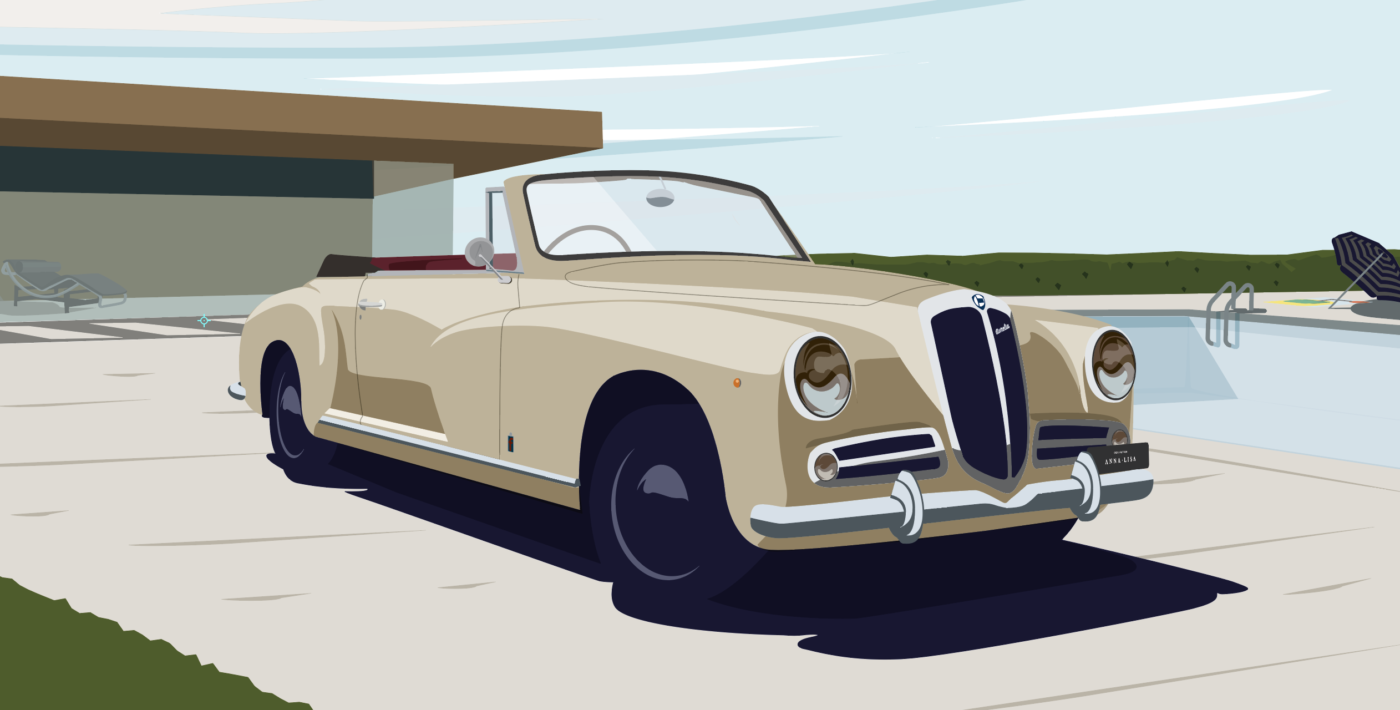 The Fifties
The 1950s witnessed a veritable effervescence to re-launch automotive production facilities. The stakes were high both for prestige and popular cars. In this period of freedom and economic growth, cars were seen as a national pride and a great source of emancipation as much as a social status. The ANNA LISA Art On Wheels collection includes numerous automobiles that reflect this very interesting era.
An era marked by the progressive standardizationand industrialisation of car production.
The 1950s marked the swan song for the "crème de la crème" of made-to-order cars designed by the greatest coachbuilders, particularly in France. Once the pinnacle of exceptional motorcars, France faced a huge decline due to a poor state policy, the lack of technical innovations and also a much lower demand for prestige cars.
As for the most famous Italian coachbuilders, they also faced increased competition from their first clients, for instance the manufacturers who were determined to produce or even design in-house their own cars. In contrast to the French, Italian coachbuilders have nevertheless managed to maintain their grip on the design, conception and production of sports or competition cars produced in limited series, especially for brands like Alfa Romeo or Lancia.
The Fifties can truly be considered as years of transition between a purely artisanal era and a more industrial one, as the late 50s and 60s have seen many technological innovations on that side.
The ANNA LISA Art On Wheels Collection reflects this transition beautifully. Although competition cars are almost absent, the presence of several large coachbuilders' cars dating from 1950 testifies to the end of this very artisanal era. On the other hand, the popular Italian models in our collection reflect what was at stake for most: equip families with small & affordable cars.
The Fifties: an era of exploits, and technical innovations fuelled by competition.
The 50s were a golden age for motor racing, with world-renowned events combining speed and endurance. The most famous ones still exist today as historical retrospectives, in particular the Tour de France automobile re-launched in 1951, the Targa Florio in Sicily, and the Mille Miglia. The same applies for endurance races such as the 24 Hours of Le Mans or the 12 Hours of Sebring in the United States that still both exist today in modern competition.
A victory in these races meant a great deal and was source of true national pride. Many of the biggest names in motor racing today have built their reputations during this period, such as Jaguar or Ferrari.
Racing was also an ideal playground for experimenting new technical innovations. If cable brakes had already been replaced by drum brakes, the introduction by Jaguar in Le Mans 1953 of the first disc brakes would change forever braking systems. It took only two years to Citroën to introduce them in its DS in1955.
Competition was also an extremely dangerous sport, and saw many dramatic accidents, such as the one in Le Mans in 1955 or the one that put an end to Mille Miglia in 1957.